60mm / 88mm Tubeless Ready Tri Combo Clincher
Brakes

Rim Brakes
Disc Brakes

$ 1,899.00

Decal Color

Black
Red
Blue
Pink
White
Yellow
Custom Colour
For the Triathlete, Black Spade Racing Tri-combo Tubeless Ready Carbon Clincher.
60mm front and 88mm rear or any depth front and any depth rear, some prefer a 38mm front and 60mm rear...up to you
All in one triathlete's wheel set, ideal for training and racing, suited for rolling hills, flat road races and criteriums.
Fitted with DT Swiss 240s hubs and any choice of carbon weave and colours of stickers, get a set that matches your bike and kit
Like our frames, BSR wheels use the latest, lightest, strongest carbon fibre technology available today. This means that all of our wheels—whether road, MTB or time trial—are as strong as structurally possible. And how will this change the way you ride? Well, we know one thing for sure: your legs will give out way before our wheels do.
Black Spade Racing wheel sets are laced with lightweight hubs and "U-Wide" shaped rims, which are more aerodymanic than the standard width rims. The wider rim increases tyre sidewall stiffness, allowing for lower tyre pressure, better handling and safer cornering.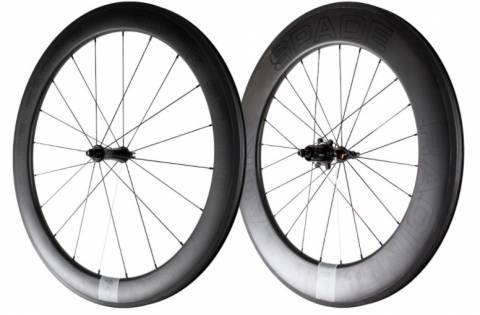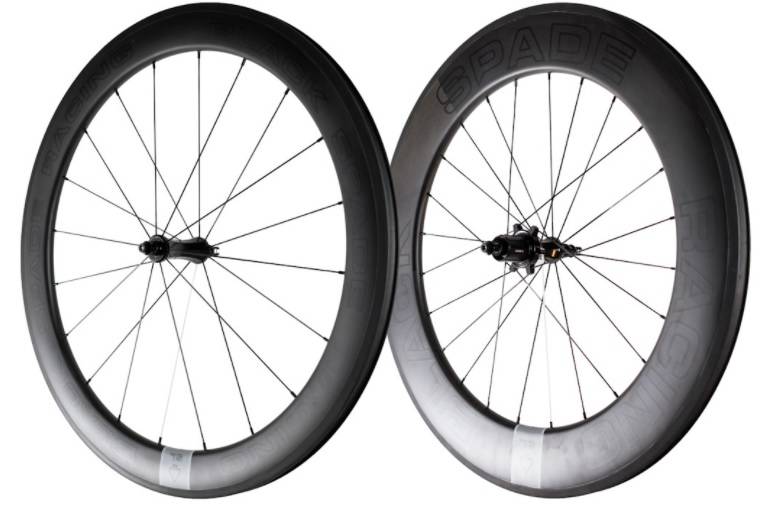 Specifications
Rim Profile
Front: 60mm ELITE U-Wide Carbon Clincher ( Tubeless Ready )
Rear: 88mm ELITE U-Wide Carbon Clincher ( Tubeless Ready )
Hub Shell
DT Swiss Hubs

** Alloy hubs available as an option **
Hub Bearings
DTSwiss 240s Hubs and Bearings
Free Hub Body
3 pawl free hub body. SRAM/Shimano ,10/11 speed compatible.
Campagnolo available on request.
Brake Surface
Basalt brake surface which is heat resistant and provides better braking performance in wet conditions.
Spoke Count
Front: 20
Rear: 24
Spokes
SAPIM branded spokes
Decal Colour
Stealth EDition, or any colour you choose
Maximum Rider Weight
120kg/264lbs
Warranty
3 years warranty for the first owner against part failure and manufacture warranty

** Get in touch with us to also hear about our owner crash replacement offer **
EXTRAS INCLUDED
** Tubeless Valves **
** Rim tape **
** Skewers **
** Brake Blocks x4 **